Welcome to Legal Access Plans
LegalGUARD can ease the biggest stresses - finding and paying for a better lawyer. LegalEASE, a Legal Access Company, offers employers a customized legal assistance plan called LegalGUARD for their employees. It's a plan underwritten by Nationwide® Insurance that provides support and protection from unexpected personal legal issues. Contact us to better understand the benefits of having a smart legal plan in place.
Meet Patricia and Michael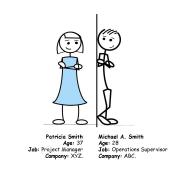 Everyone has the need for an attorney periodically throughout their lifetime. Find out why the Legal Access Method helps the end user and their employer. 
Becoming a Member

Becoming a legal plan member has many benefits, with the biggest being peace of mind. If you are considering enrolling in one of our legal plans, click here to learn the benefits.